On March 8th 2019, the European Commissioner for Competition, Margrethe Vestager, warned big tech companies that a fine might not be all they face for breaking antitrust regulations, in future.
This isn't surprising. In the past five years, tech companies have been hit with some record breaking fines as a result of anti-competitive behaviours – including a huge $14.8billion for Apple in 2016, and the FTC's biggest ever penalty of $5billion levied on Facebook in 2019.
The question is, do these fines really deter the world's most powerful companies from breaching regulations?
Afterall, these are companies that turn over billions of dollars in annual revenue. Add to that the fact that their products are so deeply ingrained in modern life – can they really be stopped?
To put these fines into perspective, we thought we would compare some of the biggest tech company penalties to the revenue they made in the same year.
Here are some of our key findings…
All the fines we looked at were less than 8% of the company's annual revenue
6 out of 8 of the fines were less than 5%
2 fines were less than 1%
However, the 3 largest fines have all been in the past 4 years
We also looked at whether the same companies' growth in revenue the following year saw any dip in revenue after receiving a fine – and in most cases, they continued to see an increase in revenue.
Revealed: Top tech antitrust fines as % of their annual revenue:
Facebook
2017 fine of $122M – 0.3%
2019 fine of $5B – estimated to be 7.5%
Google
2017 fine of $2.4B – 2.1%
2018 fine of $5B – 3.6%
Apple
2011 fine of $1.2M – 0.1%
2016 fine of $14.8B – 6.8%
We visualised these statistics in the infographic below.

The purpose of this infographic is to illustrate the impact that fines actually have on tech companies; and it's small.
Antitrust violations have serious impact on both the market and the consumer.
Afterall, Facebook's 2019 fine came after news of the Cambridge Analytica scandal broke. This was a serious violation of consumers' data privacy. Not only did it affect over 50 million users, but the company was also accused of allowing unfairly obtained information to influence election results.
Let's also take a look at a Google antitrust fine. In 2018, the EU slapped down a $5billion fine on the company for forcing Android manufacturers to pre-install the search engine in order for them to be able to offer Google Play Store.
You might be wondering why this is illegal? Well, for a start, large sums of money were handed over for this deal. Secondly, this abuse of market dominance severely restricts consumer choice and industry competitiveness.
This is serious stuff.
As you can see from the graph below, antitrust fines are increasing – as tech companies grow in power, for how much longer can we really control their behaviour?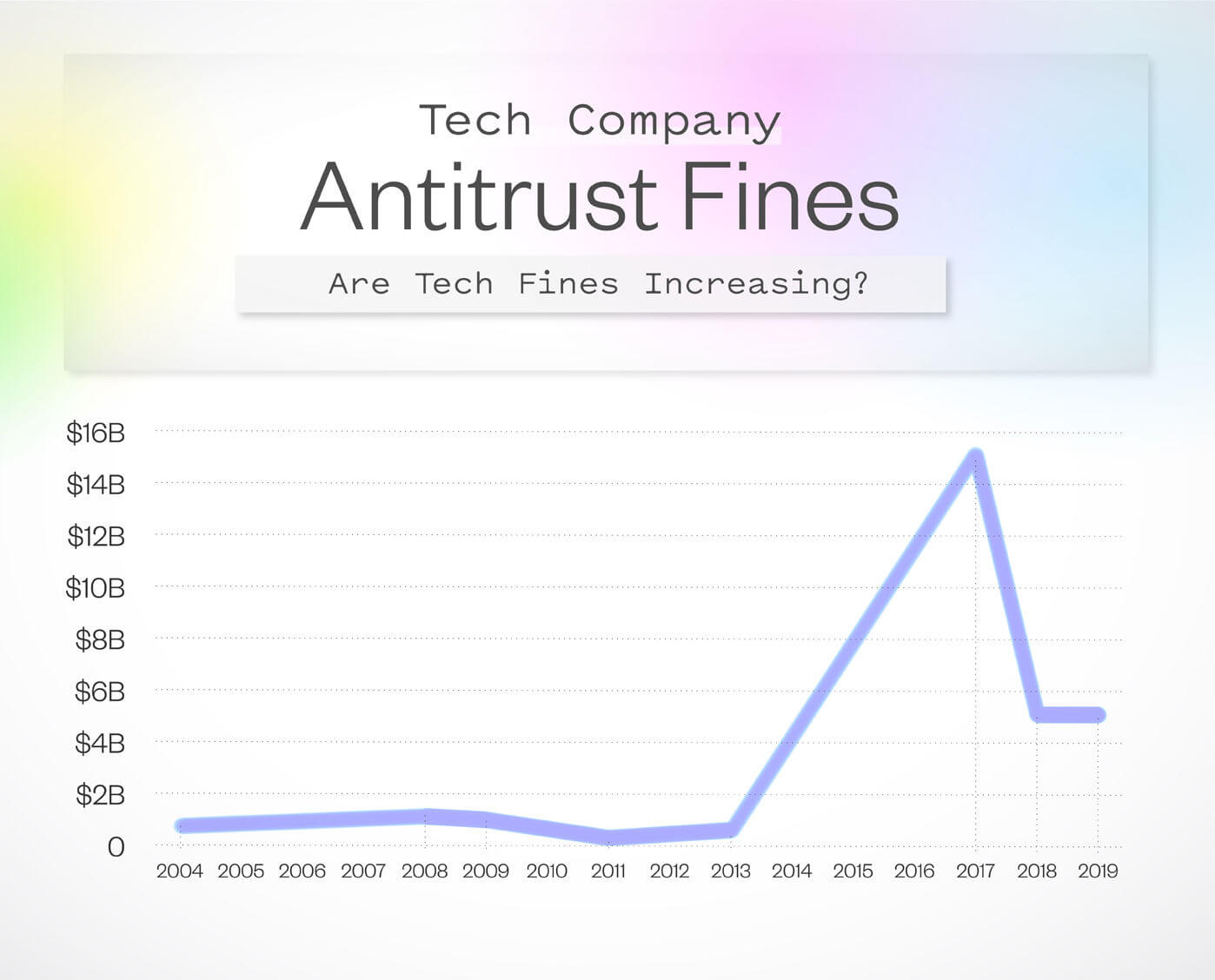 This year, the US Department of Justice announced it would carry out its own antitrust review into how some of the country's top tech giants have scaled their businesses to such heights. While some may argue tech giants are improving our technological landscape with investments and innovation, others say they are stifling the potential of new companies contributing to the market.
Either way, it seems like we have a long way to go before big tech really starts paying the price for it's transgressions.
Methodology
To produce this infographic, we looked at the two largest fines levied against each company. We then used https://www.macrotrends.net/ to find out the annual revenue the company reported in the same year as the fine. We then worked out the percentage the fine was of the annual turnover. This was accurately illustrated in this chart to show the proportion of the fine.
More from eCard Shack…
Average Salary vs Average Rental Price Around the World | LinkedIn Payscales: How Do Popular Tech Jobs Compare | Ladies and Gentlemen of the Tech Boards
[Text Version]