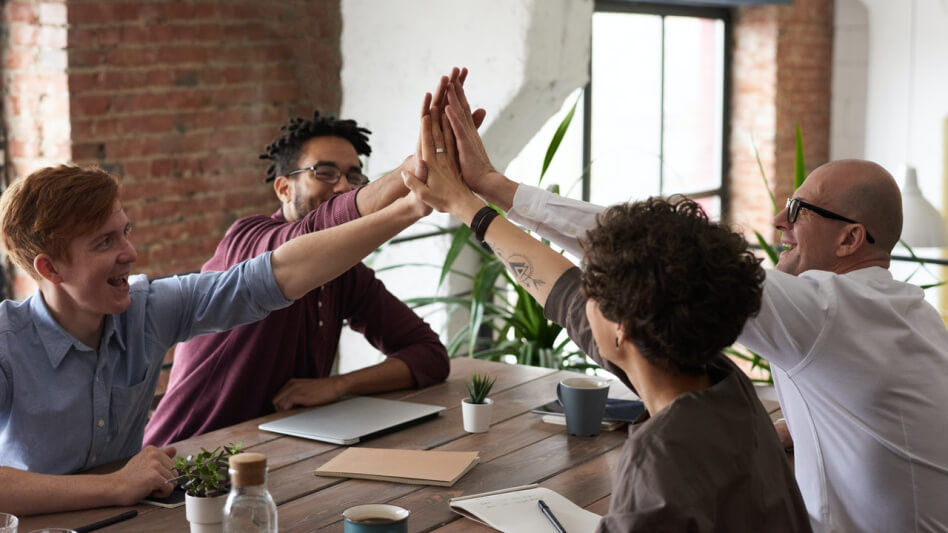 Rewarding your employees for loyalty and milestones has become more commonplace for businesses – they can be a key selling point during recruitment.
We don't mean you should use these schemes as a means of bribery or unfair incentives. Simply put, if employees are happy and have stayed with you a while, they can get extra perks, such as days off. Likewise, staff could buy days off or be rewarded for volunteering days.
Employee happiness is everything. Employees who are most happy with their workplace benefits will be more engaged than those who are least happy. So, eCard Shack is here to explain the benefits of employee reward schemes and give you some examples.
Read on to find out more about employee reward and loyalty schemes that your business can adopt to help boost staff happiness…
What are employee reward schemes and management?
Reward management is a practice that businesses use to reward employees for their achievements and loyalty.
A company establishes rules for employees to follow to achieve goals. It makes sure that employees are aware of the goals and rules set, as well as the rewards they will get in return. All employees follow the same system, and that system must be fair.
Read more: How to improve employee morale & job satisfaction
As a business, you all succeed and fail together, so you should reward everyone the same amount when it comes to bonuses. However, you can have other schemes in place to reward and thank employees for loyalty – such as extra days off or gifts, for example.
Why are reward management and recognition important?
Reward and recognition management is important for the following reasons:
Helps retain employees
Attracts new employees and makes people want to work for you
Avoids the cost of hiring and training new staff
Builds loyalty
Creates a healthy work environment
Encourages positive attitudes
Makes employees more likely to seek advancement
Strengthens the company's reputation
Helps to build a company culture
This is all part of making employees feel valued and help to increase staff retention.
Why is staff retention important?
First of all, staff turnover isn't all bad – at least on a small or moderate scale. It can allow you to bring in new, exciting talent and new ideas with them that could transform your business.
Read more: How to improve employee retention
However, high staff turnover does create problems. High levels of turnover can be costly, lowering morale and even harming your external reputation. So, understanding the importance of staff retention is vital. It's essential to try to learn more about the reasons why people leave.
These reasons can be:
Poor salary and/or benefits
A lack of training and development opportunities
Dissatisfaction with management
Not getting along with colleagues
The journey to work
Lack of work/life balance
Wanting a new challenge
Learn more about company communication with our eCards
So, employee retention becomes more important for a number of factors, which are:
Losing staff means a loss of knowledge
Teamwork and cohesion is tougher with high turnover
Your loss may benefit a competitor
Turnover expenses can be high
The hiring process isn't easy and can be costly
So, you need to have the right benefits and reward structure in place to reflect your business culture. This will make you more appealing to your current staff and potential new hires.
The difference between reward and recognition schemes
When trying to create your own recognition and reward schemes, you need to be aware of the differences between the two.
Read more: What makes a good boss?
Reward schemes are fairly self-explanatory and in most cases they're financially-based. If a team or your company has a good year, each staff member receives a reward or financial bonus. You can do the same with other rewards, such as gifts or time off.
Recognition schemes acknowledge exceptional performance, loyalty and encourage specific values. Ultimately it's about saying thank you to employees for certain behaviours, like loyalty, hard work, integrity or just doing a good job.
For engaging staff, readers and clients, try our games
Recognition management can have a big impact on workplace culture and your HR strategy. It also has an important role to play in motivating and engaging staff.
What should your employee reward and recognition scheme include?
To get your scheme up and running, there are key areas that should be featured. Each one can relate to an area to value your staff.
Read more: How to Calculate Employee Retention Rate
We've outlined them briefly below:
Peer recognition: empower your staff to celebrate each other, such as birthdays, innovations, ideas, volunteering etc.
Long-service: celebrate milestones to shout about loyal staff. You can do this with a gift or even have a scheme whereby working at your business for a certain amount of time increases your number of days off.
Instant recognition: reward employees immediately, rather than delaying until a standardised time, like Christmas or announcing company-wide bonuses. It's more motivating.
Rewards: the most common scheme is to reward desirable wins and successes, so staff will work hard to achieve them.
Thank-yous: quick and simple, these can go a long way when giving recognition for recent work.
It's also important to tailor your employee reward scheme to your business, so it reflects your culture and brand. When done properly, an employee recognition scheme will have a huge impact on your business.
Learn more about corporate communication for the 21st century with eCard Shack and our blog.
Find out more about eCard Shack's business ecards and Christmas ecard services.