The key to great customer service has always been attention to detail and remembering, no matter how big your business is, the importance to each and every customer of the single transaction they are making.
We all remember terrible experiences of poor service, the rude waiter, late delivery, endless automated answering messages on the helpline, baggage routed to a different country. Scarily for businesses, these negative experiences can be more memorable than the great ones – so whilst you spend a lot of time and effort building up customer satisfaction, your credit account can be zero'd with a single slip up. Of course the better and longer you serve your customer's, the more slack they'll cut you – but you get the point.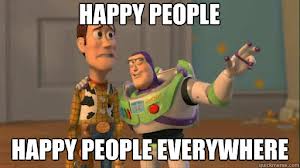 Image credit: Quickmeme
Traditionally, great customer service has been delivered face to face, or at least over the phone. It's a personal thing, right? So when you've designed your business to run as on a self-service model, and it's online, how do you ensure that your customer's experience is just as good?
Well, to quote Chip R Bell from the Entrepreneur blog "The route to your creating a positive relationship with customers who access a service without any direct personal contact is to simulate characteristics within a partnership. As is the case with customer service relationships in general, effective management of critical details can turn an "at arm's length" encounter into a responsive, affinity-building experience."
At Ecard Shack, we couldn't agree more and so we are weaving this concept throughout the self-service customer experience for designing and sending business Holiday ecards on our new website.
Any organisation's corporate Holiday ecards are really important communications to get right. Going, as it will be, to all their hard won customers to thank them and wish them seasonal greetings and goodwill. Whilst we firmly believe in putting the customer in control, there could be many questions or uncertainties along the way, especially for those that are switching away from paper cards for the first time.
As experts, our challenge is to deliver this knowledge to users in a clear, simple and intuitive way that answers any query they have, preferably right there in front of them, at the stage of the design process they are at and if not, in easily accessible and clearly sign-posted resources.
So here are the ways in which we will simulate the characteristics of personal service throughout the eCard Shack self-service user experience.
–          At the outset, when users arrive on the site looking to design and send corporate ecards, we will emphasise our recognition of the importance of their project and how we will help them every step of the way.
–          Should our users need to speak to us any point, we will provide instant access via clearly signposted Freephone numbers to our customer support agents as well as online chat support functionality for those that prefer.
–          Comprehensive, yet simple 'How to' advice on designing and sending our ecards w
eCard Shack is here to help your business with our selection of high-quality ecards – you can quickly create your own design using our eCard design tool with a choice of designs and personalisation available, choose from our range of Premium eCards or get your bespoke Christmas business eCard designed from scratch for your business which will be unlike any other.
Looking for more interesting content? Find it on our blog!