Now that we have got you excited about sending an Ecard your thoughts may have turned to wondering how you go about sending them out to your recipients. There is no point in designing a great ecard with us if you don't successfully email it out. Let us reassure you on two fronts:
1. The process is very simple and ecardshack will support you every step of the way.
2. This is infinitely easier than sending paper cards. No need to address envelopes, lick hundreds of stamps or spend the run up to christmas sat at a franking machine.
Hopefully you remain confident that you are correct to be choosing ecards for your business and also that we are the right people to successfully deliver your project. We have several years of experience in sending out ecards for the holidays or other occasions so everything we go on to explain is based on sharing our experience.
How your ecard will appear in the email
Ecardshack pride ourselves on presenting the business ecards in an equally elegant way in the email as the ecard itself. We present the ecard as 2 links. An image link which will be an image of the page of your design and an alternative hyperlink just in case your recipient has chosen not to download images from emails.
Here is an illustration of how your email presents your ecard links: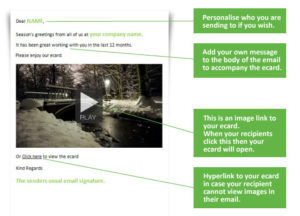 Ecardshack Tip
Make sure you send a test email to yourself to test that everything works..
Ecardshack Tip
Make sure you write a message to accompany the ecard links in your email.. Some spam checks assess the words v images ratio so not writing something could reduce the deliverability of your email.
Sending the card yourselves
Most of our clients do choose this option and it is our strongly recommended option for sending out your ecard. If you have the capability and the time to send the ecards then this approach will deliver you the best results and here's why:
1. Your recipients are familiar receiving emails from you so there will be no risk of your ecards landing in spam or junk folders. If we send the ecards or you use your own marketing platform then you will introduce a small element of risk (more detail on that later).
2. You will get the chance to personalise the email
3. You receive all responses directly to appraise the project success and also to interact directly with those who will undoubtedly take the time to complement your great ecard.
Given that 80% of our clients send the ecards themselves here is an overview of the common methods of emailing the ecard.
Sending from a central email account – Ecard projects are commonly lead by one person i.e. the person that's most likely reading this guide. It is very common that they choose to send out themselves from one email account which may be their boss's or maybe a general business email account such as admin at yourcompanyname.com. If you really want to be fancy you could get an IT colleague to create you a specific email account for the Christmas ecards to be sent from. This method is easy although does tend to lend itself to moderate volumes so if you are sending in excess of 500 emails this may not be the best approach for you unless you are happy to spend the time.
Ecardshack Tip
Do not bcc blind copy large volumes of recipients into the same email. It could look quite spammy and lead to your email account being blacklisted. Keeping the batches down to 20-30 should be fine.
Share your ecard with your colleagues to send themselves
This is a popular choice for many of our clients as it's probably the easiest to coordinate and often provides the best results. Your colleagues will know who their contacts are so there will be no need for them to send through spreadsheets of data to you. If people send themselves it is best to allow them to add their personality to the accompanying email so if their relationships with their contacts is informal then keeping the ecard email consistent with that relationship is sensible. As much as you love your colleagues do you trust them to send the ecards on time or at all? If not then maybe you should consider a different option.
Ecardshack Tip
Here are our recommended steps to approaching your colleagues with the project:
Consider who you think should send ecards
Canvas opinion but stress the benefits
When you have your links to your ecard forward them in an email to your colleagues with concise covering instructions on how to copy into their email and what else they can or cannot say in the email body
Act as a project knowledge base if people have any questions, don't just wash your hands of the project or it may not fulfil its potential
As with all projects we would advise that you gather feedback after the event.
Ask Ecardshack to send the business ecards for you
A small proportion of our clients do ask us to send their corporate ecards out on their behalf and we are very happy to accommodate the request (albeit for a small fee). The usual reasons are that they do not have the time to deliver the project. Ecardshack have access to a market leading email marketing platform to send out the email campaigns. The emails can be customised to the following degree:
Select who the email from field appears as e.g. your company name Select who gets any replies Customise your email subject Select what date the emails are sent out We do all of this upon receipt of your list of recipients and our email order form returned to us.
Sadly we do not provide reports on bounced emails or statistics on who viewed the ecard. We supply the emailing as a small low cost service to help businesses get their ecards sent however we would need to substantially increase the fees for this service for such a full report. Our continual recommendation is that our clients do send their own ecards to help you to retain control and ascertain more information out of the project.
Tips to ensure your Corporate e cards avoid spam / junk folders
We take the deliverability of your emails VERY seriously. At Ecardshack we are very confident that our ecards avoid falling into junk folders. How can we be so confident? All we are supplying is a moderately sized image link in a standard email. Consider almost every business related eail signature these days contains image links for logos and social media icons, well this is no different. We do not supply a gigantic image link because that would start to threaten the spam criteria of some email rules.
Why not share your ecard with your social media followers
Especially at Christmas time or the holiday season it is a great time of year to show the softer side of your business. Social media platforms are a fantastic modern medium to open up your business to your clients and those that follow you from a far. Why don't you post the links to your corporate ecards on the likes of Twitter, Facebook, Google Plus or LinkedIn and send some Christmas cheer to people you might forget to reach out to. Who knows, people may re-share it and generate some welcome new business for you.