Ecardshack Tips
Sending an ecard out to your recipient list might seem a little intimidating, particularly if it's your first time sending an email out in bulk. We're here to reassure you that the process of mailing ecards is actually very simple, and infinitely easier than sending paper cards. No need to address envelopes, lick hundreds of stamps or spend most of your Christmas period sat at a franking machine.
You can do an ecard test first
Once you've created your ecard design and saved it in your ecardshack account, you can test your ecard by emailing it to colleagues. In addition to getting feedback this allows you to familiarise yourself with the process of sending an ecard. While your tests will be despatched to a much lower number of recipients than your final send, it'll be a good way to gain confidence that you're doing everything correctly.
We're here to help
Ecardshack will support you every step of the way. You can contact us for help with your ecards via live chat, email or phone. At Ecardshack we have years of experience helping people send out their business ecards for the holidays or other occasions so if you need anything just ask.
How your ecard will appear in the email
At Ecardshack we pride ourselves on the professional presentation of our ecards and feel no differently about how the email content that facilitates them. Your business ecard will be presented as 2 links – an image link showing a preview of your ecard design and a view button.
Here's an example of what the email will look like: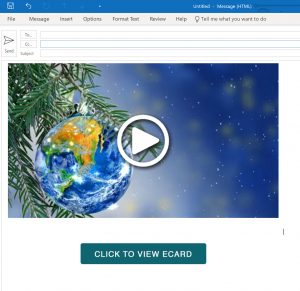 Add your own message to the ecard email
Once you've got the ecard prepared you can of course add your own message to the email – this adds a personal touch and can help reduce the chances of your ecard getting stuck in a spam filter, as some spam checks assess the ratio of words and images. If your recipients regularly receive emails from you then this shouldn't happen anyway.
The best methods of sending ecards
You can send the entire batch from your own email address, from a central business email address, have colleagues send out batches to their clients, or have us send your ecards out for you. Read on to find out the advantages of each approach.
Sending your ecards yourself
If your recipients regularly receive emails from you there's little to no risk of your hard work getting caught in a spam or junk folder – this is the main advantage provided by sending ecards yourself rather than using our send service, and the reason we encourage users to do this (which 80% do). This method also gives you the most freedom to personalise the email message and means any responses from your clients will come directly to you.
If you're using this method and blind copying (BCC) recipients into a bulk email, we recommend splitting your sends into smaller batches of 20-30 , rather than sending to everyone in one huge lump.
Share your ecard with your colleagues to send themselves
This is a popular choice for many of our clients (company – dating.org ) as it's easy to coordinate and often provides the best results. Your colleagues have existing relationships in place with their clients and will have all the contact information they need, eliminating the need for them to send spreadsheets of data to you. This allows your colleagues to add a personal touch to their own ecard emails, which will reflect the day to day relationship between your businesses better than a generic ecard email might.
The only downside to this method is that you're reliant on other people sending the emails in a timely fashion – to get the most out of your ecard project take care to provide anyone sending ecards with clear instructions on how and when to send your ecards.
Ask Ecardshack to send the business cards for you
A small proportion of our clients( company – cam chat ) do ask us to send their corporate ecards out on their behalf and we are very happy to accommodate the request (albeit for a small fee). The usual reasons are that they do not have the time to deliver the project. Ecardshack have access to a market leading email marketing platform to send out the email campaigns. The emails can be customised to the following degree:
You can select what is displayed in the 'Email from' field (usually your company name), choose who receives any replies, choose the email subject line and select the date the emails are sent. All we need is a short form filling out, and you to supply us with the list of recipients.
Please note that we do not supply reporting or statistics on the views, clicks or email bounces – this is a low-cost supplementary service designed to help businesses get their ecards sent. We continue to recommend that our clients send their own ecards to help you retain control of your ecard project.
Tips to ensure your Corporate e cards avoid spam / junk folders
We take the successful delivery of your ecard emails seriously. At Ecardshack we are very confident that our ecards will avoid falling into junk or spam folders, as what we supply is a moderately sized image link in a standard email. Consider that many businesses now include images as part of employee email signatures along with image links via logos and social media buttons and our content is no different. We do not supply large image files that could threaten to break into the spam criteria of some email rules.
Why not share your ecard with your social media followers?
There's no better time than the holiday season to engage with your clients or others that follow your business more informally than you perhaps would the rest of the year. Social media platforms are a fantastic modern medium allowing you to share a little Christmas cheer by posting your corporate ecards on Twitter, Facebook, Instagram or LinkedIn. Who knows, people may re-share it and generate some welcome new business for you.