With the holiday season fast approaching, it's time to start organising! And one of the most essential parts of the festive season is ensuring that your greetings cards are ready to be received in time.
And if you're ready to get the ball rolling, you're in the right place.
At eCard Shack, our Christmas eCard services are designed to be easy to use, with quick results.
If you're interested in finding out more about buying and sending a Christmas eCard, keep reading…
How to purchase and send a Christmas eCard with eCard Shack
Ready to get started? Great! But first, we'll need to take you through the steps.
Our Christmas eCard process can look a little different, depending on the service you go for. See below for our step-by-step Christmas eCard guide.
Get familiar with holiday eCards
Holiday eCards are the same as regular cards, except it's done online. Your personalized eCard is completely customizable up until when you send it, so don't worry if you'd like to make a few tweaks here and there beforehand!
Plus, you can test your eCard before sending the final version to your recipients. We recommend doing this to ensure you're satisfied with how it'll appear to your recipients.
Choose your eCard service
At eCard Shack, we offer three types of Christmas eCard services.
Before purchasing one of our Christmas eCards, we recommend looking over each service to see what's included. This way, you'll know what to expect and which customization features are available.
Standard Christmas eCard
Our Christmas greeting eCards include impressive illustrations, music and messaging functions. You'll also be able to send out your finished creation to a pre-determined number of recipients.
You'll have complete control over which template, message and Christmas-themed music is showcased in your eCard. And don't worry – we offer a variety of templates and Christmas music to choose from!
Premium Christmas eCard
If you want to create an eCard that's more tailored to your recipients and access customization features, try our Premium eCard package.
Alongside having access to more customizable features and fun animation, we also allow for user-generated content. From imagery to company logos and branding, there's plenty of opportunity to include your own content with our Premium eCard package.
You'll also have access to Free Unlimited Recipients, which is particularly appealing to those who want to spread their Christmas eCard creation far and wide!
Bespoke Christmas eCard
If you have an exact idea of how you want your eCard to look but can't quite seem to find it within our other packages, our Bespoke eCard service is perfect for you.
To use our Bespoke eCard service, simply provide us with a brief on exactly what you would like your Christmas eCard to look like. Our expert designers will aim to bring your eCard vision to life for you within a matter of days*.
Please note, as no bespoke package creation is ever the same, we provide a quote and completion date after receipt of the information provided. So, the turnaround time will depend on what's required creatively.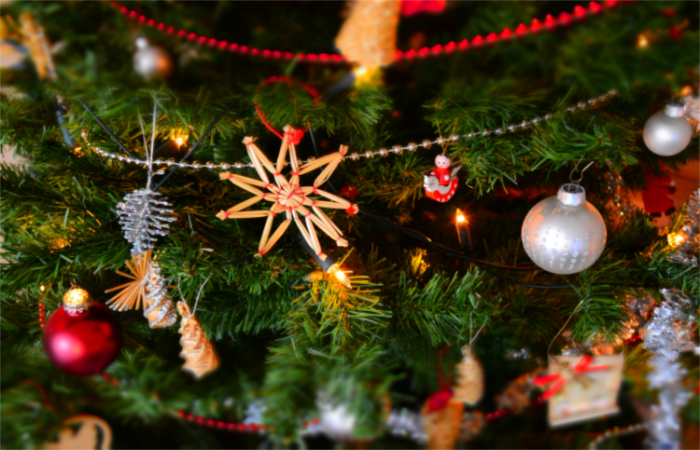 Create your own Christmas eCard
Now for the fun part! Creating your own Christmas eCard is a fun and straightforward process, no matter which one of our Christmas eCard services is right for you.
See below for more information on how to create your Christmas eCard creation.
Standard Christmas eCards
If you're using our Standard Christmas eCard service, start by choosing a template. We offer an extensive range of template options, so be sure to take a good look at what's available!
Then, you'll have the option to add your own personalised messaging. If you'd prefer not to include a personal message, we have standardised messaging options that can be inserted into your Christmas eCard.
Our Standard Christmas eCard service can be completed without the help of our customer service team, as you'll be provided with access to advanced online tools to help you create the perfect Christmas eCard.
Premium eCards
Premium eCards follow a similar process to our standard Christmas eCard service, except you'll have more customization options and features. Because of this, you'll be provided with full support from our friendly customer service team.
In order to start the process of creating one of our Premium eCards, you'll need to contact us directly. Click here to be taken to our contact page.
Once our team has finished adding your assets to the eCard, whether that's imagery for the animation or your company branding, your eCard will be sent to you as an Mp4 video. This process usually takes around 2 to 3 working days to complete once we've received the assets needed for customization.
Bespoke eCards
Our Bespoke eCard service is adapted to suit you. However, as a general guideline, here's an example of what it can look like:
Reach out to one of our experienced team members via our contact information. You can call us or leave a message – it's up to you!
We'll listen to exactly what you want to be included within your bespoke eCard and use this information as our brief.
We provide you with a quote and turnaround time.
Our expert design team will work on bringing your creation to life.
You'll then receive your bespoke eCard in an Mp4 video.
Once we've made sure you're happy with what's been created, you'll be able to send out your eCard to as many recipients as you like.

Sending out your Christmas eCard to your recipients
Once you've purchased your finished eCard, you will find a 'send' button with your account.
You'll then be given clear instructions on how to send it out to your recipients, which takes no time at all. There are several ways to send out your Christmas eCard. See below for your options:
Email.
WhatsApp.
From your email marketing platform.
All online messaging platforms.
Slack.
All social media platforms.
Our eCard services are optimized for desktop and mobile devices. So, as long as you have the correct contact information for your recipients, you'll be able to send your Christmas eCard out on any online platform you like!
Watch our video on how to buy and send our Christmas eCards  
Seeing is learning, after all! 
We've put together a detailed video that explains everything you need to know about buying and sending a Christmas eCard from eCard Shack. Watch for yourself below!
Browse our fantastic range of Christmas eCards now
Catch up on more content from the eCard Shack blog…
A Guide to Christmas for Virtual Assistants & Personal Assistants | Your Complete Guide to Christmas eCards | How eCards for Business Can Be an Effective Marketing Tool